Our HOG group has been working with the community for over 25 years and raising funds for various groups.  We are currently doing Rides to support the following organizations.
Central Florida Zoo
Originating from the proceeds of working as extras in a movie (Running Cool (1993)), the Seminole HOG chapter has been working to help support the Eagles at the Central Florida Zoo for coming up on twenty-five years.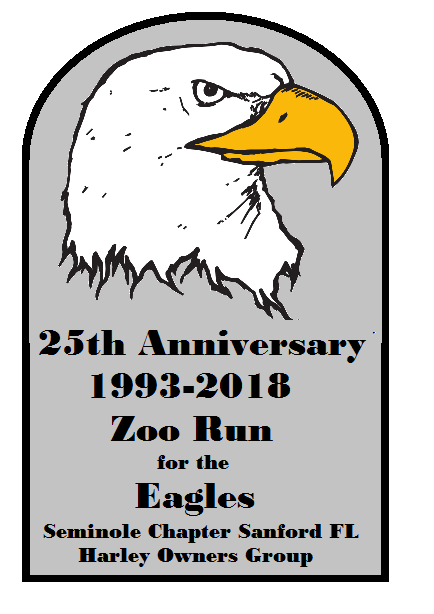 Please join us on February 25th, 2018 to celebrate the silver anniversary of supporting the Eagles.
To register please click the following Link
Registration for the 25th Zoo Run
Check back here for updates.
Central Florida SIDS Alliance
"In the belief that every child should live"….The motto of the Central Florida SIDS Alliance…
formed through the efforts of SIDS parent groups and concerned professionals. This group of parents, families, friends and professionals have united to form a network of caring people, sharing their strength, their love and concern about SIDS.
Because SIDS occurs unexpectedly, and usually at home, nearly every parent feels in some way responsible for the baby's death, until the facts are explained. The sudden and unexpected nature of SIDS, and the investigation which follows, may provoke serious feelings of guilt, self-recrimination and inadequacy. Parents need information about SIDS and reassurance that the feelings they are experiencing are normal and part of the total healing process after such a traumatic loss.
Seminole Chapter Sanford Florida is pleased to help support such a worthwhile charitable endeavor, please check back for details on our 2018 Central Florida SIDS Alliance run.